What are the home stores good for?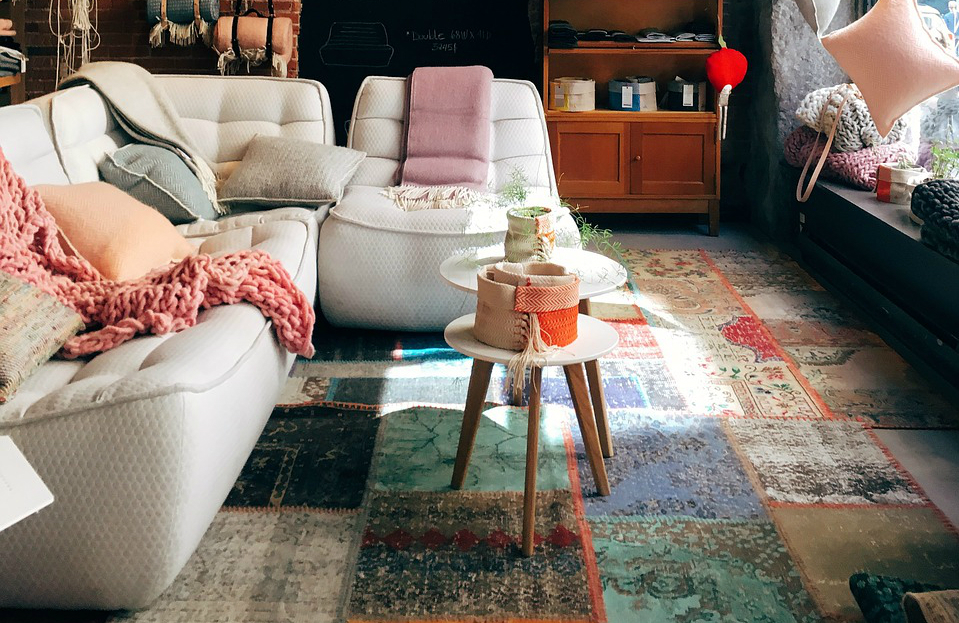 "God gave us a spirit not of fear but of power and love and self-control." –2 Timothy 1:7
I know it's not biblical to live in a state of fear. The truth is, though, I'm a weenie. I have a list of irrational fears that includes searching for the TV remote when it slips into the depths of the furniture; I'd rather get up to press the buttons on the actual television than lose sight of my hand in the unknown land that has caught the effects of my acid refluxy babies and claimed too many of my bobby pins, ponytail holders, and potato chip crumbs.
Also, I'm 30 years old, and I still sleep with a night light on.

I told you. Weenie.
But my fears list also includes rational ones, like the spiritual well-being of my children, as well as the thought of how limited their physical time on earth may be. I fear that I may be holding them back in the world because I have submitted to the Lord's lead to homeschool. And even in making that decision, I had to make sure that fear of something like the prospect of an armed maniac entering their kindergarten classes, or a car accident on the way to or from school taking their lives wasn't the driving force.
I'm borderline too scared to go to the movies anymore, or to the mall, or to Hobby Lobby, or to Chick-fil-A. And after a bomb scare at work a few years ago, even the typical work week got nerve-wracking for a while. Now that I am home with the kids all day, I'm still usually on edge, because everyone who knows where our church is knows where we live, so anyone who's been offended by something that my husband may have said or stood for or against knows just where to find me and my children.
Ugh!
For Christmas this year, Ray and I decided to get each other a new mattress. As we entered the furniture store a few days ago, I thought about how pleasant furniture stores are in general -- Just a bunch of couches, and chairs, and beds, and linens, and throw pillows perfectly put together just to be seen, enjoyed, and considered. When you go furniture shopping, you tend to enter into it knowing pretty much exactly what you're looking for, so the salespeople (in my mind, anyway) have it pretty good.
Anyway, as I walked into the store on a Friday evening during the Christmas shopping season, I looked around to see just one other vehicle in the parking lot, and I thought to myself, There's probably not a bomb in that car.
The thing is, furniture stores are typically nonpolar. I mean, the business isn't exactly known for taking a stand for or against any political issue, and most furniture stores are not generally crowded. (In my thinking, that latter quality equals safe.) Ray and I went into the store, received more information on mattresses than I thought was out there, made our decision, gave the saleslady our money and home address, were told an estimated delivery date, received our receipts, and we were out the door. As we strapped the kids in their car seats and made our way to find some dinner, I thought about what a nice experience it all was. And then I thought, Why can't everything in life be like the furniture store?
One answer is it would be boring. As good as I may think the salespeople have it, I still saw one of the salesmen sleeping on the job, as we were the only customers in the store, and he had nothing to do. Another answer is it would be just as pointless as the furniture that's on display there. When you buy a mattress or a couch, you don't actually get the one you see in the store; you have to wait a couple of weeks for one that looks like the one you saw in the store to be delivered. (I'm sure those items get sold or donated at some point, but for the sake of my point, just nod and stick with me for a minute.)
Some situations in life simply require action. And if the people you encounter don't have a general idea of your beliefs based off the words you say or the things you do, if you choose to be as nonpolar as a furniture store on something as crucial as biblical issues and how they play into the day-to-day, or if you think about it and realize that you aren't even convicted about your silence or course of action, then I'd say you might have a spiritual deficit that needs to be addressed.
The professor who taught my "Introduction to Baptist Life" class in college used to regularly say, "If you're going to be a Baptist, you'd better be a good one." Really, I think that statement could apply to just about any area of a person's life:
"If you're going to be an athlete, you'd better be a good one."
"If you're going to be a cook, you'd better be a good one."
"If you're going to be a parent, you'd better be a good one."
"If you're going to be a doctor, you'd better be a good one."
"If you're going to be a Christian, you'd better be a good one."
The Bible says in Revelation 3:16, "Because you are lukewarm, and neither hot nor cold, I will spit you out of my mouth."
I've noted that scriptural reference in my writings before; it's one of those that constantly rings in my mind. I don't want to be lukewarm. I don't want God to spit me out of His mouth, disgusted by my silence when I should've said something. It's a possibility that scares me.
So I don't want to be like the furniture stores of the world, as pleasant as they may be. I want to take a stand for what matters -- for Christ -- in everything that I choose to say and do. It may leave me in an uncomfortable conversation, an unpleasant situation, or with one or two fewer friends than I had before, but I suspect it'll be well worth the trouble.
"And if it is evil in your eyes to serve the Lord, choose this day whom you will serve … But as for me and my house, we will serve the Lord." – Joshua 24:15