In response to the 'me, myself, and I' speech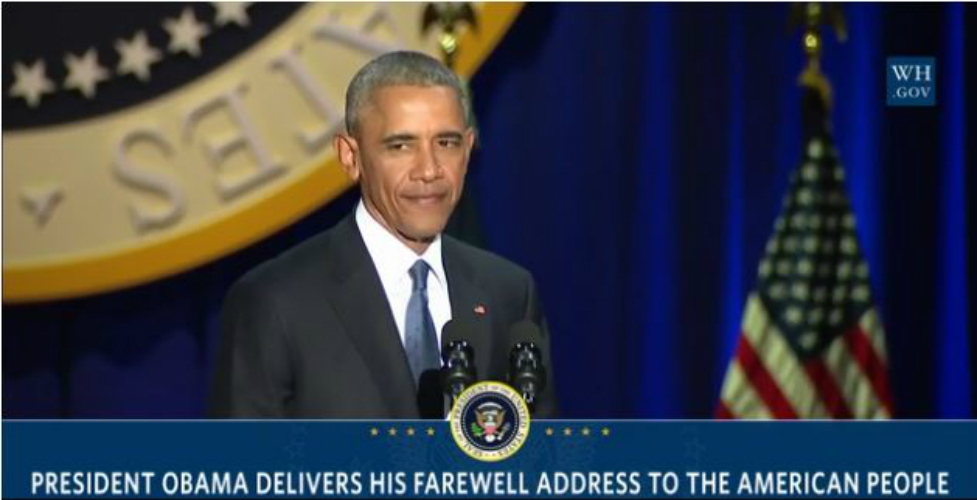 In response to "Obama Refers To Himself 75 Times In Farewell Address," an article published in The Daily Caller that I shared on my social media page, I was met with a barrage of posts defending our outgoing president and vigorously protesting my initial status titled "The 'Me, myself and I'  speech. His failed policies nearly capsized America, and he will go down in history as the worst POTUS since Woodrow Wilson. I can't wait 'til Jan. 20th."
One of my detractors, a fellow with whom I went to high school, is now a pastor in Los Angeles. He was especially offended at my comment concerning President Obama's legacy, and he defended the outgoing president's tenure, citing some of his so-called "accomplishments" and completely ignoring his record of policies that attempt to silence the Church and legalize immorality.
Well, I have to admit that it triggered my anger. But I know the Word of God says to get angry but sin not (Ephesians 4:26). So I gave him a little righteous indignation. The following is taken from my post.  I have changed his name to protect his anonymity:
Rod, if you call yourself a Christian and a pastor, how in the world can you applaud one whose policies are diametrically opposed to a Christian worldview? You worship this man. That is why I call him your Black Camelot.
Your judgment is blinded by your worship of ethnicity. Black Camelot's reign will be over in 9 days, and I quite frankly thank God for that. You implied that my white friends vote for white candidates. My white (and black) friends actually vote for a man or woman based on the merits of their campaign platform. I wonder if you have any white friends. And if you do, they probably walk on egg shells around you for fear of knocking that considerable racial chip off your shoulder.
It should be noted that white folk put President Obama in office not once, but twice, since blacks are only 13 percent of the population. This election, commonsense white folk and every other ethnicity had enough of Obama's America-hating policies and revisionists history writing and showed up at the polls in record numbers to make sure that Obama 2.0 (Hillary Clinton) did not get elected. 81 percent of the evangelical Christian community showed up at the polls and pulled the lever for anybody but Hillary.
According to some stats, 14 to 16 percent of black Americans left the Democrat plantation and voted across the aisle or went 3rd party this election cycle. Why? Because they saw through the bamboozlement of the Democrat machine and the fact that not a darn thing has changed in the black community in 8 years. Just ask the poor black folk who live in the murder capital of America…Chicago. Note that your precious president is NOT even moving back to his home town. It's too rowdy for him there with all the black folk dying from gun shots and all. So he's setting up shop in DC and Hawaii. In 2016, over 700 murders in Chicago alone.
Though you and I grew up in the same community, the difference between me and you is I have lined up my theology with my worldview, political and otherwise. My journey began well over 27 years ago, when I discovered how my parents raised me in a Christian home and my belief in the one true God didn't line up with my political worldview. I discovered the "white man" wasn't the problem in my life, since Scripture says God, and He alone, is the final arbiter in the affairs of man. Then I discovered how big God truly is. Once I learned that, I saw no obstacles in my life that I could not overcome...racial or otherwise. Why? Because me plus Jesus equals a majority (as my grandmother taught me). Every adversary in my life God turned into either my ally or my footstool, just like the Word of God says.
I'm not a victim, but a victor... an overcomer! Rod, you still see yourself and black people as victims. And it clouds your vision. If you see everything through the prism of race, your vision is skewed, and by default, your worldview, biblical and otherwise.
Closing point: My brethren are those who share my values and biblical worldview. They may or may not necessarily share my "paint job." My prayer is that you will one day leave your affinity for liberation theology in the dung heap where it belongs, along with socialism, communism, fascism, and the resultant totalitarian regimes they always produce -- Nazi Germany, USSR, China, Cuba, and Venezuela come to mind. And the last time I checked, black folk did not fare well in any of those regimes.