The next stop for the "Awakening Tour"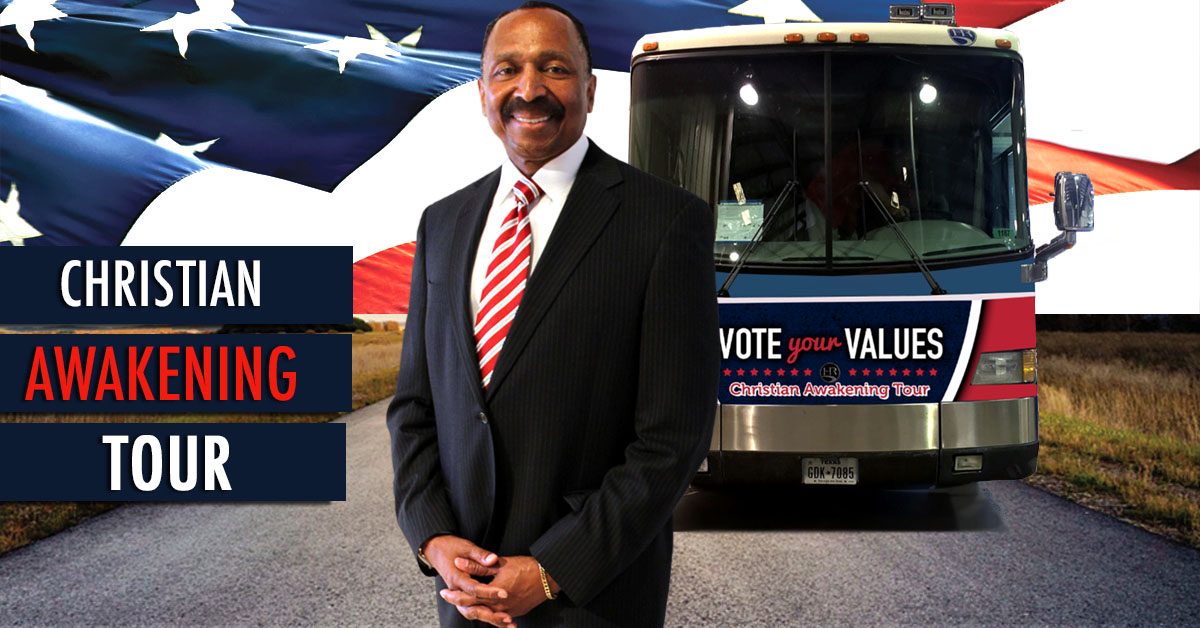 Chesapeake, Va. —S.T.A.N.D (Staying True to America's National Destiny) is hitting the road for a bus tour through four locations in Virginia and one in North Carolina. Bishop E.W. Jackson will speak to pastors and church leaders, reminding them of their Christian duty to vote and encouraging them to get out the vote on November 8. In the last election, 25 million evangelical Christians stayed at home. Bishop Jackson is determined not to let this happen again. Locations for the Tour stops are:
Oct. 11: Danville/Blairs—11 a.m. at White Oak Worship Center, 8465 US-29, Blairs, Va.
Oct. 12: Richmond—1:30 p.m. at Credit Union House of Virginia, 108 N. 8th Street, Richmond, VA 23219
(Register here; because this event includes a luncheon, registration is required)
Oct. 13: Virginia Beach—10 a.m. at Rock Church International, 640 Kempsville Road
Oct. 13: Newport News—2 p.m. at World Outreach Worship Center, 1233 Shields Road
Oct. 17: Kannapolis- 12 p.m. at Central Baptist Church, 1810 Moose Road, Kannapolis, NC 28083
Jackson will be joined in Virginia by his principal partner in this campaign - Dr. Rick Scarborough of Vision America. The two are on an arduous schedule to impact these states before the November 8 election.  "Virginia and North Carolina are key states in this historic electoral decision," says Bishop Jackson. "Now  more than ever, Christians must take their values to the polls and elect candidates who will uphold and protect biblical principles. Dr. Scarborough is reminding audiences, "At least two—if not more—Supreme Court justices will be appointed during the next president's term."
Attendance is free, but registration is necessary to ensure a sufficient number of lunches. Attendees are asked submit their information as soon as possible. Space is limited. Registrations will be processed on a first come, first serve basis.
Bishop E. W. Jackson Sr. is the founder and president of S.T.A.N.D. (Staying True to America's National Destiny), a national grassroots organization dedicated to restoring America's Judeo-Christian history. He is an author and a nationally syndicated radio talk show host with American Family Radio's Urban Family Talk Network.  For more information on S.T.A.N.D, visit standamerica.us;

Rick Scarborough is founder and president of Vision America Action, and a best selling author who served as the senior pastor of First Baptist Church of Pearland, Texas, from 1990 to 2002.  For details about Vision America Action, visit vaaction.org/vaa.